Reporting and Business Intelligence (BI)
Overview
Business intelligence comprises the strategies and technologies used by enterprises for the data analysis of business information. BI technologies provide historical, current and predictive views of business operations.
ITAS provides various means of extracting this business information allowing users to adopt their own strategies and technologies (reporting applications). This is primarily achieved by utilising the Data Warehouse service.
For an overview of the relationship between the ITAS data and the reporting/analytics technology read this guide provided by Microsoft.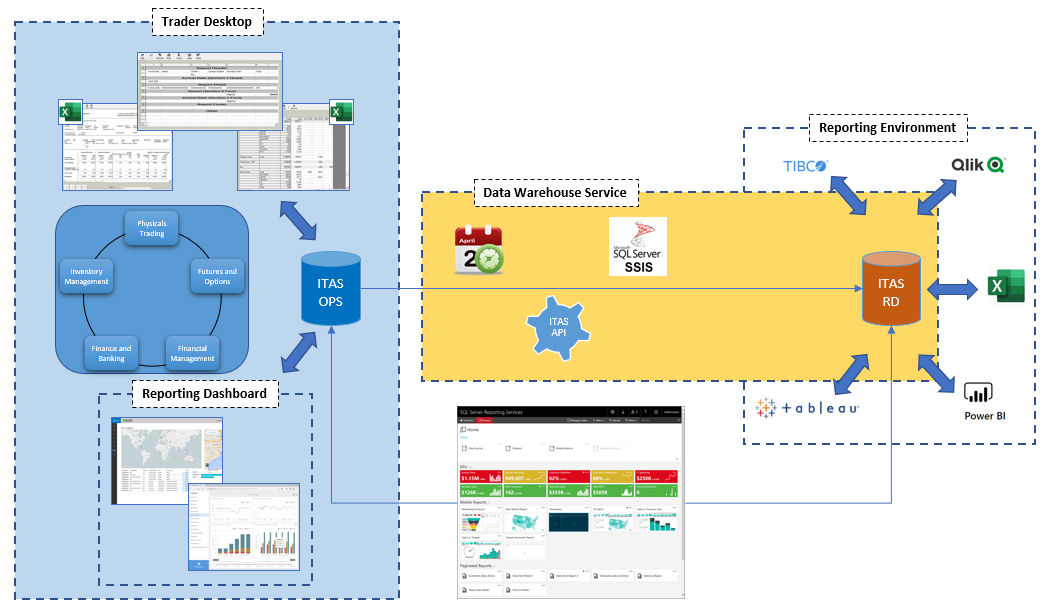 Sample Technologies
Microsoft SQL Server Reporting Services (SSRS)
"SQL Server Reporting Services is a solution that customers deploy on their own premises for creating, publishing, and managing reports, then delivering them to the right users in different ways, whether that's viewing them in web browser, on their mobile device, or as an email in their in-box"
Further Information
Tableau
"Tableau Desktop is a report development tool for creating reports and formatting the data into visualisations. These visualisations can be organised in a dashboard for individual use or shared via Tableau Server."
Further Information 
Qlik
"QlikView is designed to let you rapidly build and deploy interactive, guided analytics applications and dashboards using a flexible development environment." 
Further Information 
Microsoft Power BI
"Power BI is a business analytics solution that lets you visualise your data and share insights across your organisation, or embed them in your app or website."
Further Information